See beyond what's possible.
Discover a freedom that takes you farther. As the most efficient Toyota hybrid yet, Prius Prime is ready to maximize every drive - whether you're running around town or taking it beyond city limits. Keep your adventures going by  taking advantage of an EV Mode23 driving range that has up to an EPA-estimated 25 miles.51 Charge it whenever  you can, or don't. When the charge runs low, Prius Prime will continue to run as an efficient hybrid and still have an EPA-estimated 54 mpg combined.48 Uniquely designed with intelligent tech, premium materials, thoughtful engineering and room for five, Prius Prime is ready to help you go to new places.  Limited shown in Supersonic Red53 with available accessory cargo cross bars.54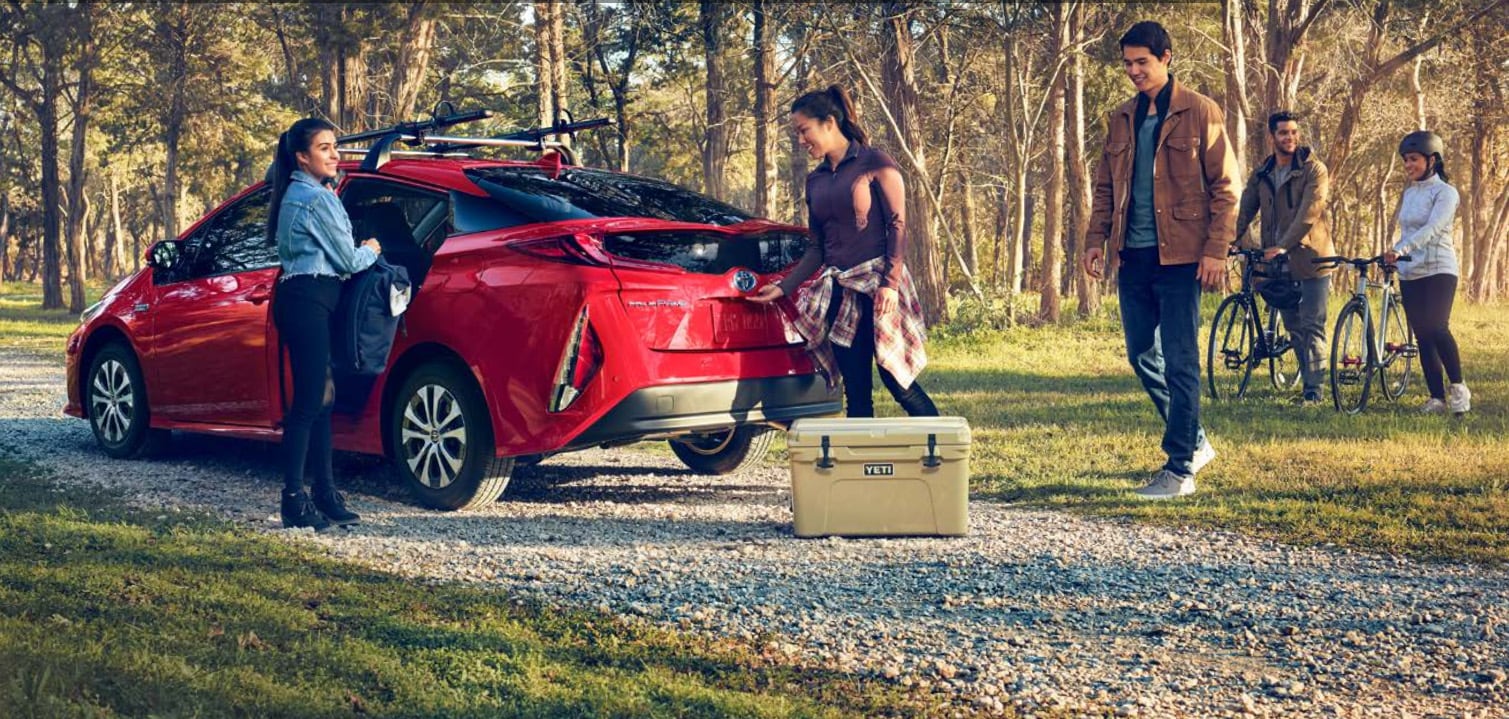 Plug in to potential.
It's time to get the most out of every drive in the smartest way possible. Prius Prime has an EPA-estimated 133 MPGe.49 Its lightweight materials, proven hybrid technology and an  optimized Plug-in Hybrid Vehicle (PHV) system all work together to raise the efficiency bar.  Inside, two rear USB ports7 and an updated rear seating design enhance every drive with  more room, more comfort and more possibilities.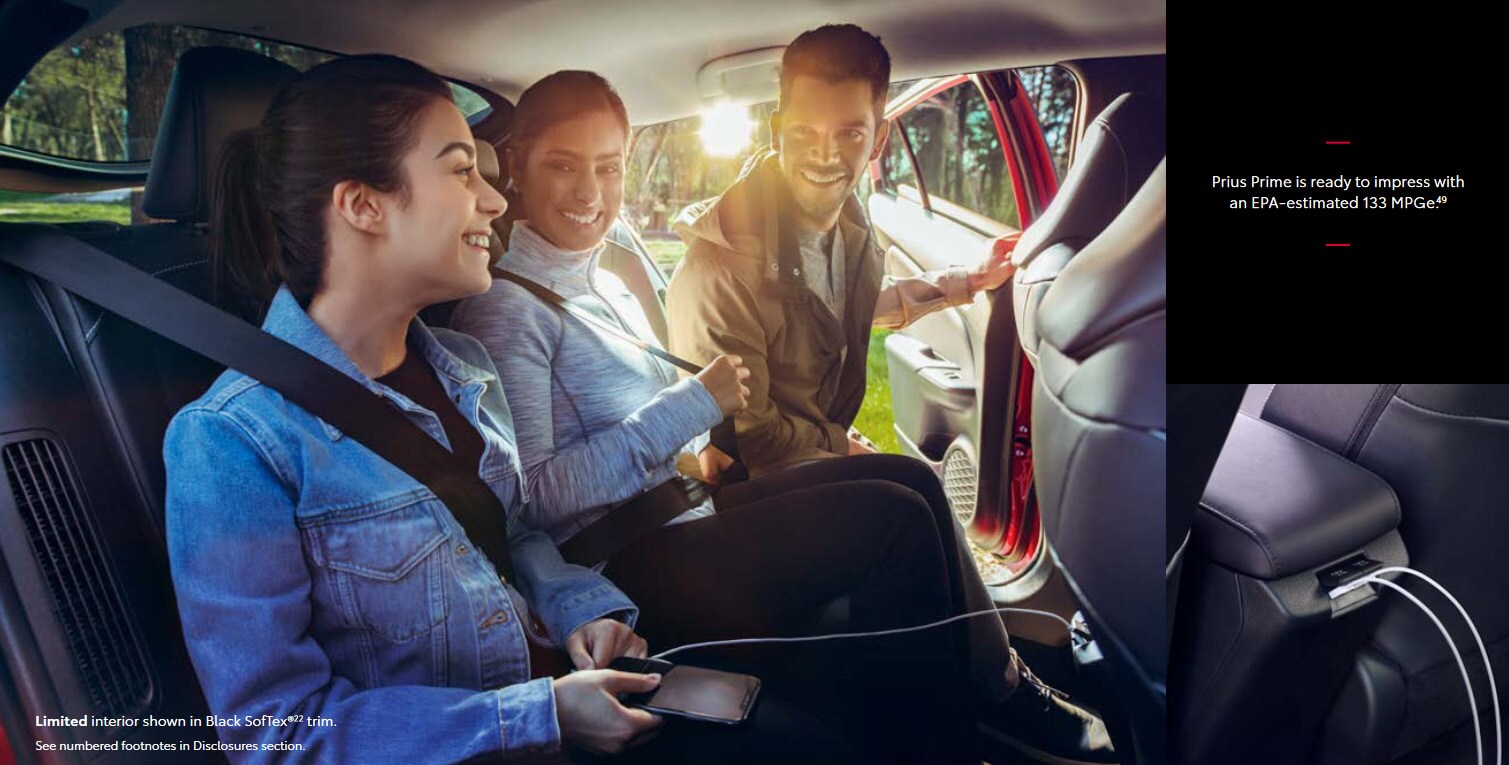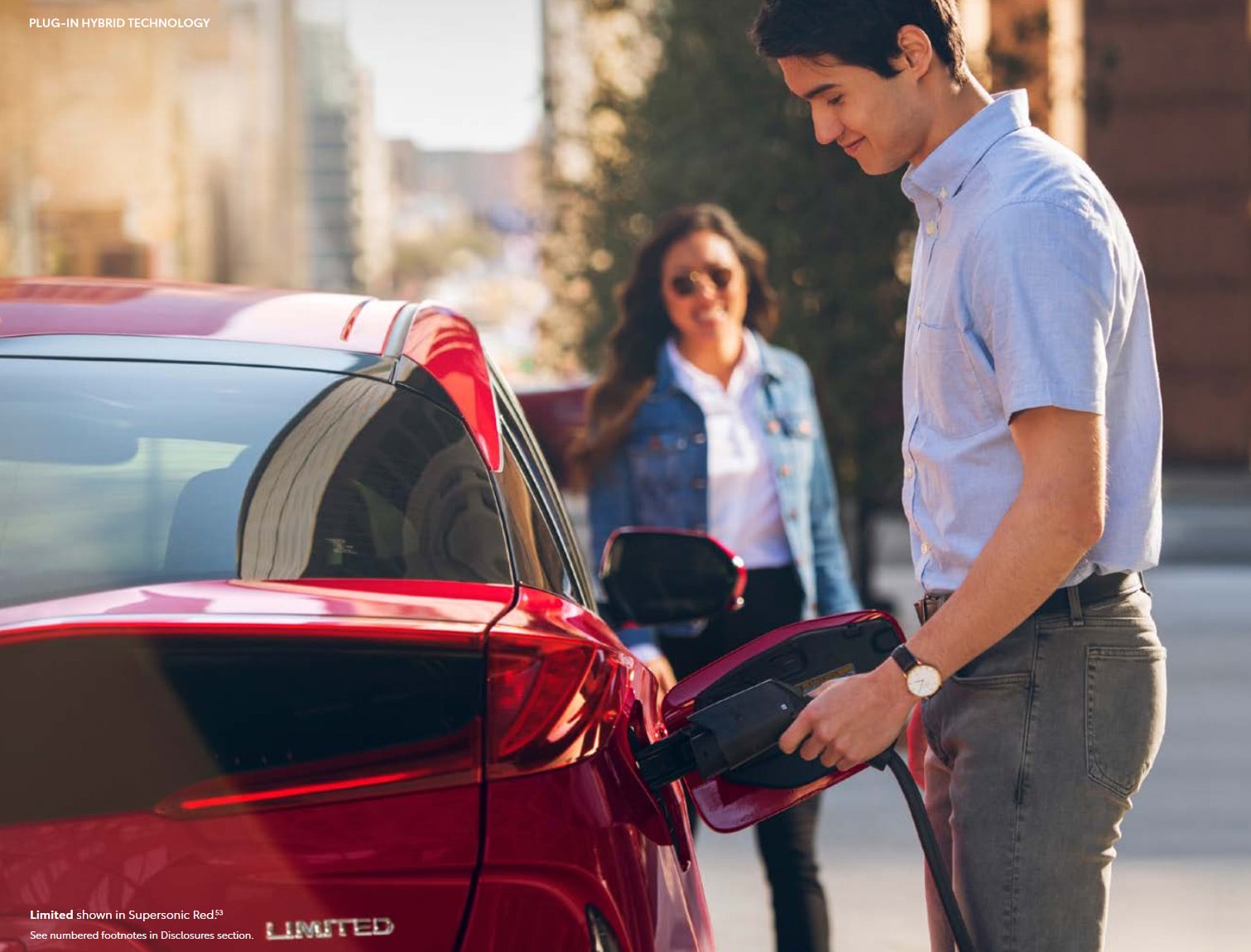 The best of both worlds.
Take efficiency to another level. Prius Prime is more than just a hybrid; it's a hybrid you can charge for maximum efficiency. With a full tank of gas and a fully charged battery, Prius Prime has an EPA-estimated 640-mile driving range.50 Drive in EV Mode23 without using a drop of fuel or switch to hybrid mode when needed - it's a no-compromise solution that offers the best of both EV and hybrid options. Add ample cargo space47 with seating for up to five, and your potential is endless.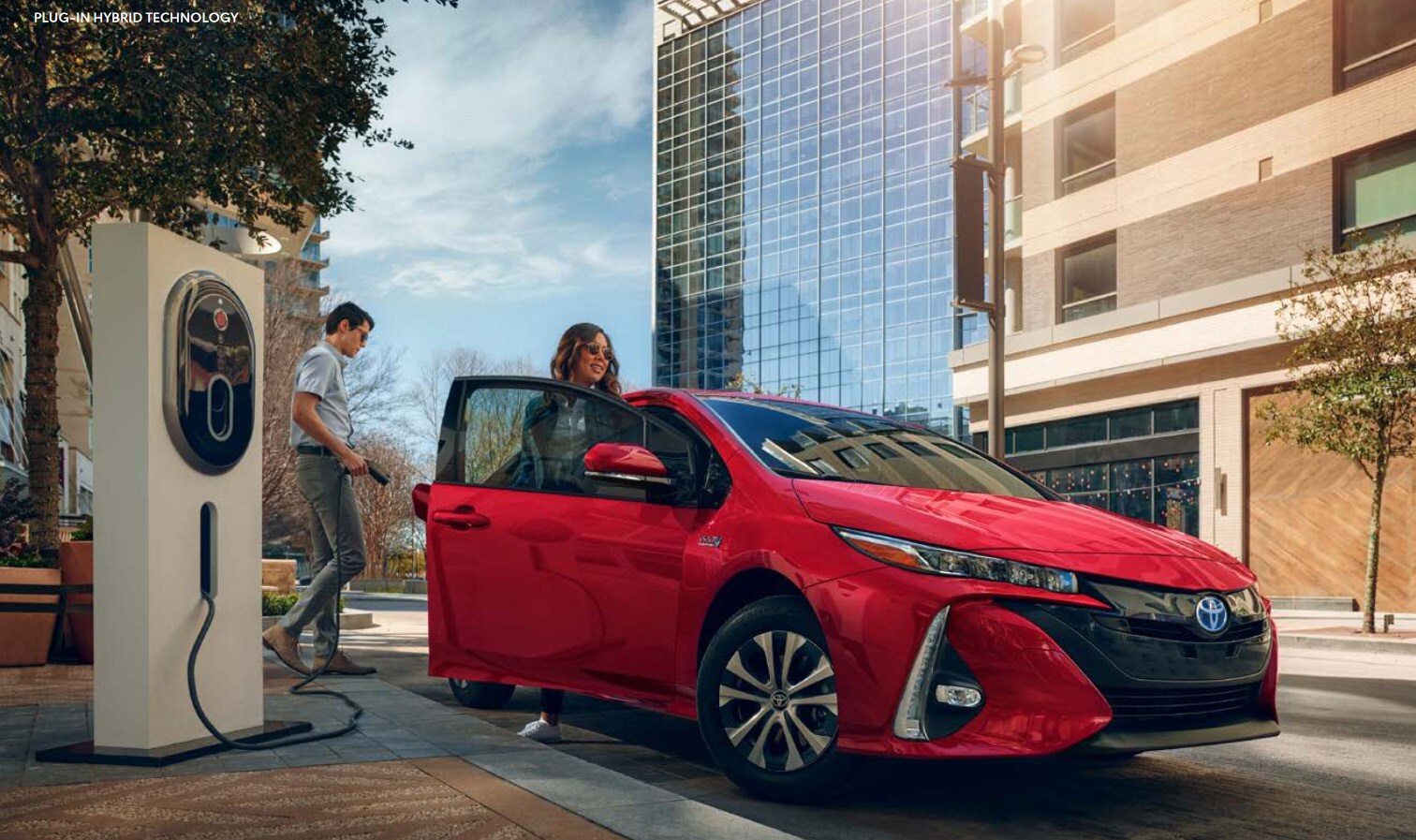 Limited shown in Supersonic Red. 53
All the range without the anxiety.
Every last detail of Prius Prime has been optimized to help make it the most advanced - and  efficient - Prius yet. Advanced, lightweight materials, like the Toyota-first carbon-fiber-reinforced polymer rear hatch, proven hybrid technology and an optimized Plug-in Hybrid Vehicle (PHV) system, collectively enhance Prius Prime's performance while maximizing efficiency. Simply charge up from a standard household outlet or any public charging station and go even farther.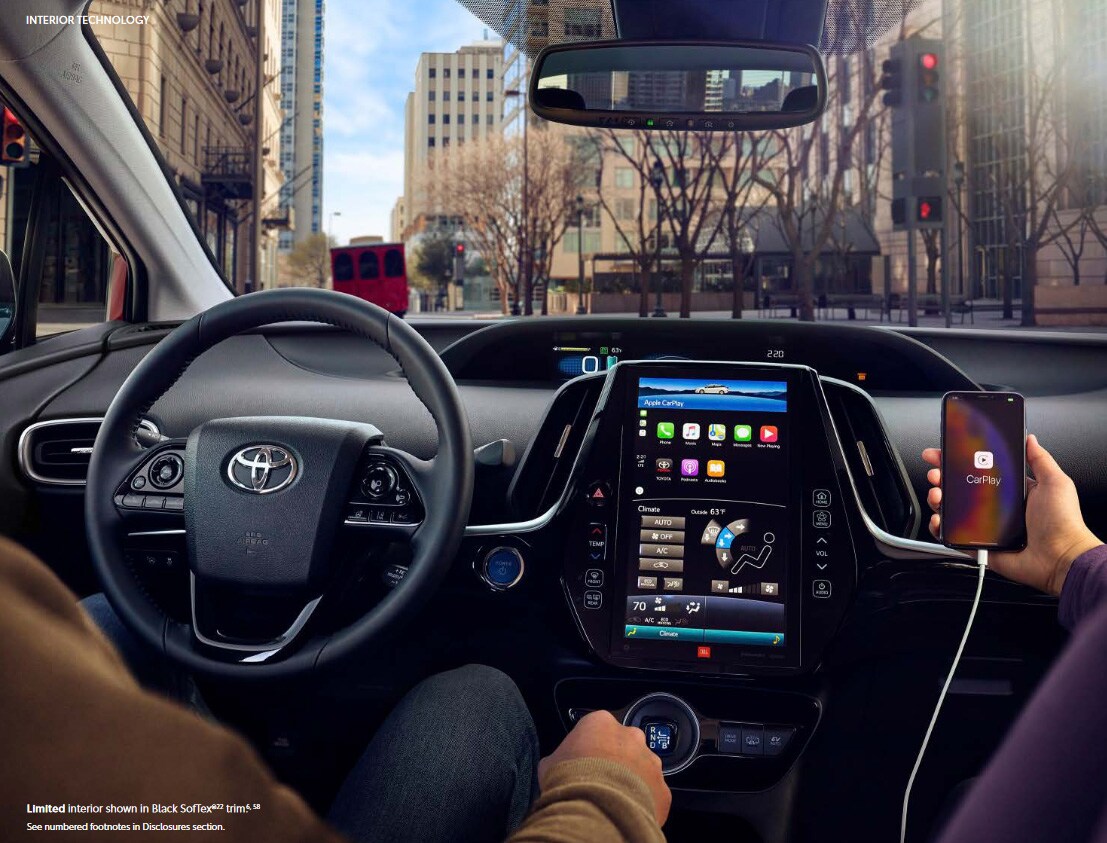 Make every drive more personal.
Get into a space that's designed to welcome you as much as it is to inspire you. Prius Prime's updated interior shows off a sleeker look with piano-black accents on the steering wheel and center console. You'll even welcome longer trips, thanks to Prius Prime's available integrated navigation17 and infotainment system. Connect your smartphone and use the available 11.6-in. touch-screen or standard Bluetooth®9 to make phone calls. You can also listen to available SiriusXM®15 that offers over 170 channels of sports, news, talk and commercial-free music, all in amazing digital sound.

Intelligence meets technology.
Prius Prime has innovative tech that you just can't miss. Its available 11.6-in. touch-screen display uses intuitive pinch, zoom, tap and swipe gestures for a familiar smartphone-like experience.  So whether you're planning your next night out or using the navigation to help you get there,  you've got the power to do it all.

Comfort within reach.

Prius Prime's interior features a modern design with premium materials throughout. From every press of a button to every turn of the steering wheel, feel the quality come through. Add smart tech and innovative thinking, and get ready for a more engaging drive. Its front seats also feature side bolsters to help keep you in place when the road twists, for that extra boost of confidence behind the wheel.

Innovative. Intentional. Inspiring.
Prius Prime is designed to enhance your drive with innovation that lies on and beneath the surface of the artfully sculpted exterior. The combination of purposeful, aerodynamic elements and lightweight components helps increase your efficiency - and contributes to an EPA-estimated 25-mile EV Mode23 driving range.51 All of this helps Prius Prime strike the perfect balance between its elevated efficiency and eye-catching style. It's an uncompromising approach that ensures you'll enjoy every moment.